We service, sell and install furnaces, air conditioners, heat pumps, ductless mini splits, humidifiers, air filters and other heating, ventilation and air conditioning, (HVAC), equipment. We are dedicated to providing our customers with the best products and services available.
Our staff is friendly, experienced and willing to be helpful all the time. Please allow us the opportunity to be your preferred service and installation company. With over 23 years in business and thousands of heating and air conditioning systems installed and serviced all over the Spokane region.
We are your fully licensed, factory trained heating and air conditioning experts. Our number one goal is to make life easier for our customers when it comes to their heating and cooling needs.
Locally owned by Eric Brulotte, graduate from Central Valley High School and graduated from Universal Technical Institute for Heating and Air Conditioning.
I have a WA state electrical 06 administrators license, EPA refrigerant license, City of Spokane Gas Heating Mechanics License, Factory-Trained Mitsubishi ductless certification, PTCS heat pump certification, Lennox Premier dealer, Mitsubishi Diamond dealer and WA State General Contractors License.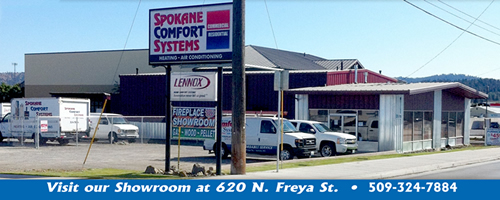 I have personally installed, designed, serviced and sold thousands of heating and cooling systems in the Spokane region. My family and I live here in Spokane and enjoy all the relationships we have developed over the years with our customers and friends. We are truly blessed to be a part of this community and are very proud of Spokane.